---
Spooktacular hikes for the Halloween season
Halloween is approaching and it's that time of year where we are seeking things a bit creepy. So if you're outdoorsy, what better way is there to celebrate the spooky season than taking a hike deep into a dark, shadowy forest?
We have numerous trails in our region that lead to cemeteries, gravesites and even a ghost town. Hikers often report haunted or unnerving activity at many of these locations. Trek to one of these eerie spots to find out for yourself if the stories are true. And if you're feeling extra-bold, wear a headlamp and hike in the dark or camp nearby to see if you can withstand the night.
Here are my top three local hikes to get a tingle up your spine:
Nick Grindstaff Monument
Nick Grindstaff was born in 1851. He was orphaned at the age of three. Rumor has it that he later moved out west where he was robbed and beaten, along with suffering other financial difficulties.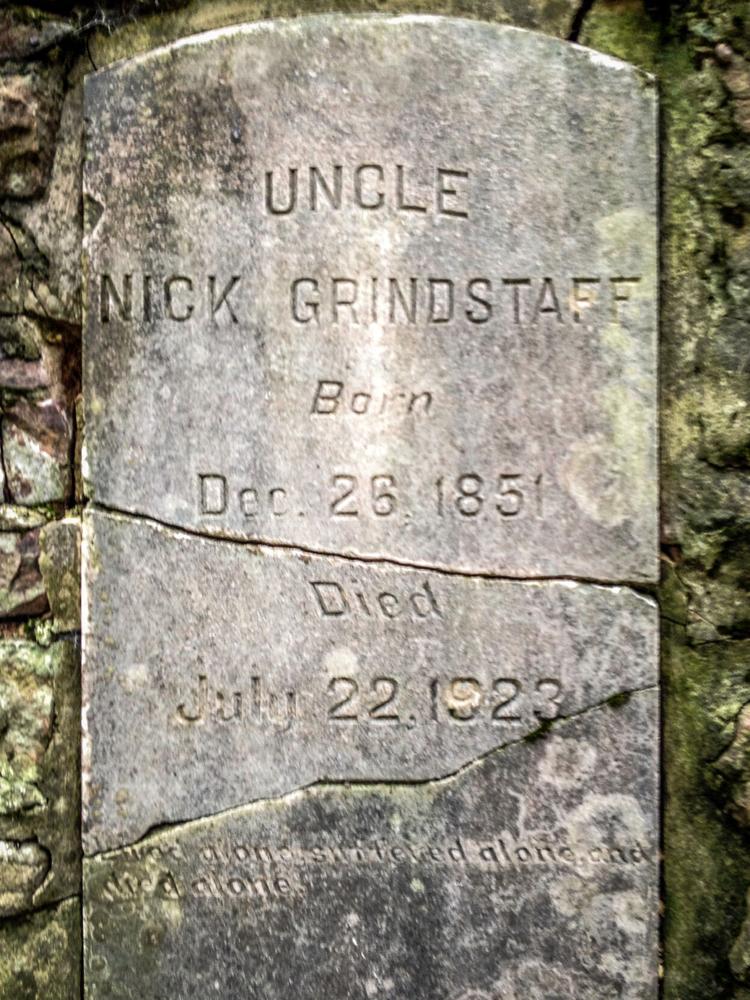 He soon returned to Tennessee, where he lived out the final 45 years of his life in total solitude, except for his dog, Panter, in a tiny cabin high up on Iron Mountain.
In 1923, a man went to visit Nick and found him dead inside his cabin. Some stories say that Panter watched over Nick's body for days, and the dog had to be overpowered and tied to a tree so Nick could be buried. Other accounts say that when Panter died, he was buried alongside Nick.
The cabin's chimney serves as a headstone with the epitaph reading, "Lived alone, suffered alone, died alone."
To this day many hikers who camp near this monument report the spine-chilling howls of a dog late at night, and some claim to see a phantom dog guarding the area.
Getting there: From Highway 19E in Elizabethton, drive Stoney Creek Road (Highway 91) toward Shady Valley for 18 miles to a parking area at the intersection of Highway 91 and Cross Mountain Road. From the parking area, walk over Cross Mountain Road and head into the forest, following the white blazes.
This is heading south on the Appalachian Trail. If you cross over TN91 you will be heading north on the A.T. toward Osborne Farm, which is the wrong direction. Simply follow the white blazes. In 3.5 miles of steady climbing, you'll reach the Nick Grindstaff Monument, only a few feet off of the Appalachian Trail.
Abandoned Community of Lost Cove
The ghost town of Lost Cove is located above the Nolichucky River, just outside of Erwin, near the North Carolina/Tennessee border. It is situated in a very remote and isolated area on the rugged slopes of Flattop Mountain. No roads lead to it, only foot trails and the railroad along the river.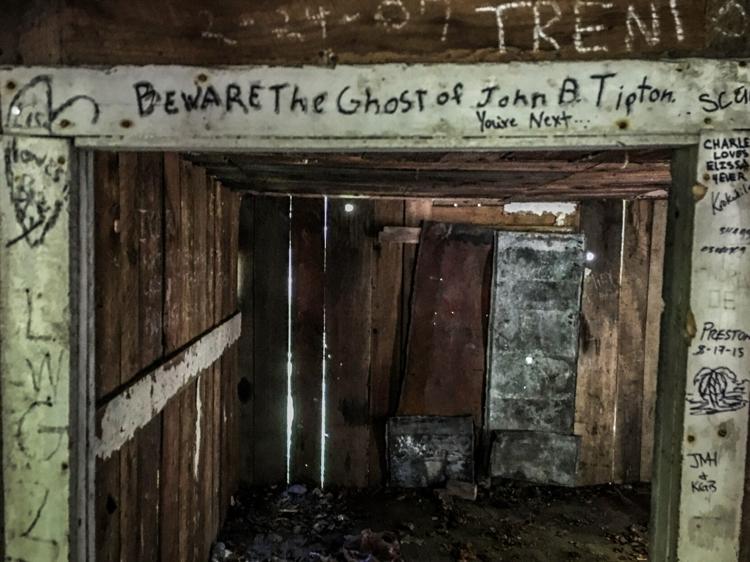 Most historians believe the town was settled around the time of the Civil War, and for many years the inhabitants (around 100) made their livings by logging and moon-shining. But eventually timber resources began to diminish, and the railroad moved toward hauling coal, leaving the town to dwindle. The last residents left in 1957.
What you will find there today is two remaining houses, a few stone chimneys, an old logging truck, building remnants and a small cemetery with crumbling gravestones. Be it haunted or not, this is an extremely eerie place isolated deep in the middle of nowhere. It would take a brave soul to spend the night alone in Lost Cove.
Getting there: From Interstate 26 take exit #43 (Temple Hill). Turn east at the bottom of the exit, then take a right on US 19W. Proceed for thirteen miles, and take a left on White Oak Flats Road. This paved road will ascend steeply for a little over a mile, then end at an intersection with two graveled roads. Take the gravel road to the left, which is FS 278.
This road will continue to climb as you follow it for 2.0 miles. The Lost Cove Trail begins near the summit of Flattop Mountain, and is a very strenuous, six-mile round trip hike.
Vandeventer Shelter
There have been very few deadly attacks on the Appalachian Trail. However, in 1975 at the Vandenventer Shelter overlooking Watauga Lake, Paul Bigley murdered Janice Balza of Wisconsin. She was an Appalachian Trail thru-hiker.
Bigley killed her with a hatchet, allegedly because he coveted her backpack.
Many hikers staying at this shelter give accounts of hearing loud footsteps in the nearby woods late at night, but no one is there. Others hear strange sounds coming from the cliffs behind the shelter.
Getting there: From Highway 19E in Elizabethton, drive Stoney Creek Road (Highway 91) toward Shady Valley. In about four miles turn right onto Blue Springs Road. When Blue Springs curves sharply to the left (about one mile), go straight onto Steel Bridge Road. After 0.8 miles, turn right and go across the bridge.
Follow the signs for Wilbur and Watauga Dams.
Pass by Wilbur Dam and cross a bridge over the reservoir. Just beyond this bridge bear left. The road starts to climb.
The Appalachian Trail crossing (with parking) is at the top of the climb. After parking, walk north on the Appalachian Trail (on the same side of the road as the parking spots), following the white blazes.
In about 4.4 miles of strenuous climbing, you will reach Vandeventer Shelter.